Here in beautiful North Idaho we are lucky to have 4 very distinct seasons. Everybody loves the warmth of Summer, the freshness of Spring, the colors of Fall, and the coziness of Winter. With winter comes SNOW and that can mean snow storms!  Driving in the snow and knowing how to be prepared for winter driving can be a bit stressful. Knowing what to do or even where to start preparation can be one of the biggest hurdles. There are simple preparations that can be done to your vehicle and with your family to get through the longest and coldest season. Check out the winter driving preparation tips below to help avoid winter sneaking up on you and those you love.
Preparation Tips for Winter:
Get a Vehicle Winter Maintenance Check-up Before Winter Hits:
~ Don't wait to check your battery, belts, hoses, radiator, lights, brakes, heater/defroster and wipers
~ Tire shops and mechanics are busiest just before and during winter storms, so get your check-up scheduled NOW
Know How to Drive in the Snow and Ice
~ Start you vehicle early and scrape your windows each morning before heading out. It will ensure you will have a clear view of the roadway and keep you warm
~ Be smooth and slow in steering, breaking and accelerating. If you move the tires too quickly, they don't have time to respond and you will end up sliding.
~ Drive for the conditions – that means drive slower, accelerate slower, don't stop if you can avoid it since accelerating back up may be difficult and leave additional room between you and the vehicle in front of you (Keep in mind that the larger the vehicle the longer it will take for it to stop)
~ Do not use cruise control because if your car skids or hydroplanes it accelerates to maintain the vehicles speed which will make it very difficult to remain in control of your vehicle.
~ Accelerate from a stop in 2nd gear because there is less torque and you're less likely to spin the tire.
~ Know how to handle a hill, do not power up the hill or stop on your way up.
~ Drive in the snow pack next to the road to get more traction if the road is too icy
~ Remember that all-wheel drive and 4-wheel drive vehicles do not stop faster or steer better on ice
~ Slow down when you approach intersections, off-ramps, bridges or anything that looks like it may be icy or where you will need to stop
~ If you end up behind a snow plow, slow down and give the plow extra room
~ Chain-up and removal areas are often where people are out of their vehicles so be sure to slow down and be vigilant in those areas
Practice driving in parking lots to learn how to handle your vehicle in a slide and get to know your breaks, that will help
tremendously in a real world situation
Have Basic Winter Survival Kit & Basic Winter Travel Gear in Your Vehicle:
~ You never know what you will run into when you drive away from your home each winter morning, so it's best to always be prepared. The checklist below will make sure you have everything you need.
What to Keep in Your Car – Checklist
Know What to do in an Emergency:

~ If you start to slide, first thing to do is stay calm! Avoid sudden movements. Do not turn your tires quickly, accelerate or break suddenly, it can cause you to loose traction. Look where you want to go and steer that direction. If you start
heading off the road, steer towards things that will cause the least amount of damage, such as an empty field or yard.
~ Find a roadside assistance company and plan that works for you. Check with your insurance provider and see if it's comes with your plan or any possible discounts. Don't forget to renew the policy! Many individuals let it expire and forget about it until it's needed.
~ There may be a situation where you are stranded, maybe your vehicle broke down or you've slide off the road, and you need a tow truck or a ride. It's good to have phone numbers saved in your phone in case you are at a location where you can't access the internet. Below is a small list of tow companies and ride options in our area:
Note: Often with ridesharing options, such as Lyft and Uber, you must sign up and create an account to use their service. If you haven't already, it would be a good idea for sign up for one so you have another ride option.
Keep Your Fuel Tank Full:
~ Don't let it fall below half a tank because condensation can form in the empty portion of the gas tank. In cold weather, that condensation will freeze then collect into icy blockages in your lines and make it difficult to start your vehicle.
Plan With Your Family:
~ Create a plan that works well with your family in case an emergency happens, especially if you have younger drivers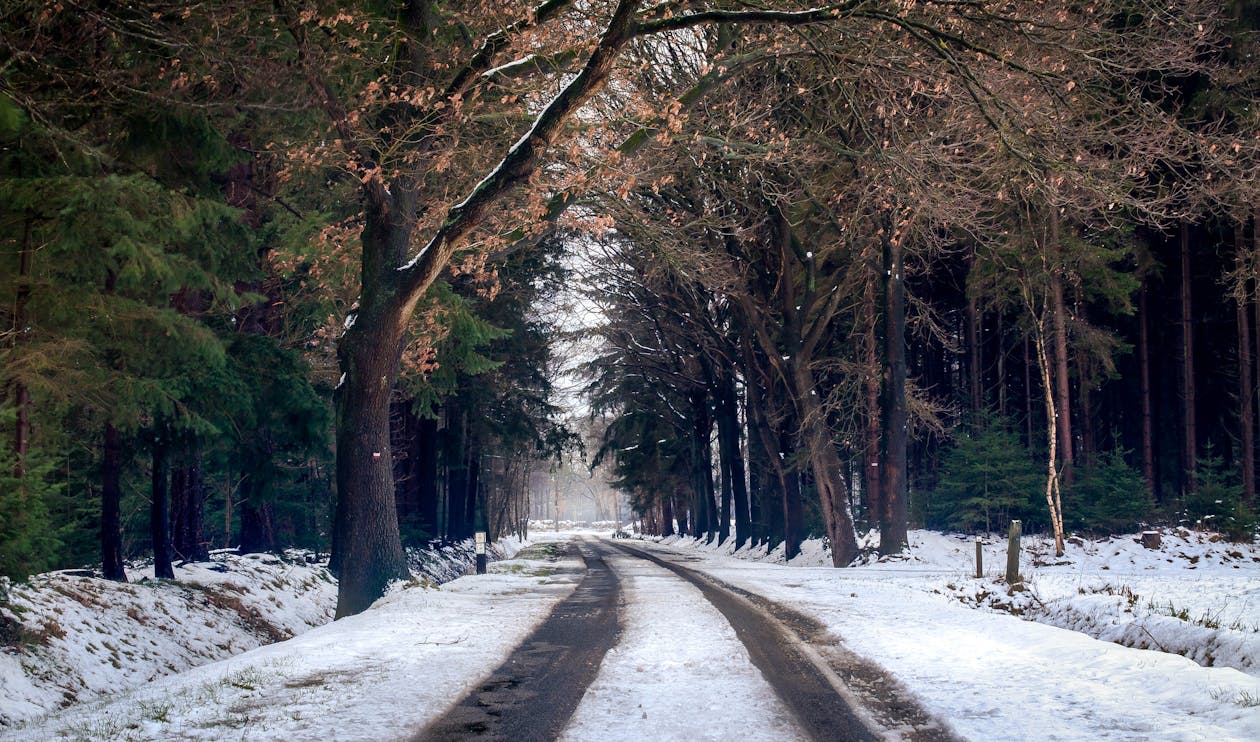 ~ Go over it each year before the snow falls
Stay Informed:
~ Be sure to find your local station for traffic reports and emergency messages. Most local stations in your area will have weather alerts, but if you're specifically looking for a weather channel, click here to find one in your area.
~ Check the weather frequently so you are prepared for its arrival
Check Your Tires:
~ Make sure your chains fit before the first winter storm
~ Have the correct type of tires for the weather
~ Check tire pressure during cold weather. To do so, first find out what the recommended pressure is. Then after your tires have cooled, press the tire gauge directly into the tire vulvae and hold firmly (You should hear no air coming out). Based on what the gauge says, you could either release some air, add some or leave it. Check it frequently though winter.
Check out this video for additional recommendations and visuals to help with the tips listed above:
Click on the Checklists Below for More Information:
Get Ready for Freezing Temperatures & Snowfall
Get Ready for Winter Weather Driving
AND REMEMBER TO ALWAYS BE SAFE OUT THERE!!
Sources: Washington State Dept of Transportation, Take the Winter by Storm, US Forest Service, Osceola Garage, Your Mechanic